SKYREALMS Press Kit
KICKSTARTER Campaign running from June 7 to July 5
Three floating islands veiled in mist…

Three floating islands drift in the thick Mist. Eerie creatures dwell among the clefts, and slumbering cyclopes lie awaiting to be awakend. Hanging at the threshold between mortals and gods, brimming with secrets and mysteries, as charming as they are perilous: the SKYREALMS await the adventurer.
What is SKYREALMS? SKYREALMS is a game neutral RPG setting, bestiary and adventure pack. It's compatible with any system, including OSR, Troika, D&D, Med Fantasy and Space Fantasy games. The tables and lore are designed to provide a flexible storytelling experience that can be tailored to your system and your style. AND it's also a coloring zine.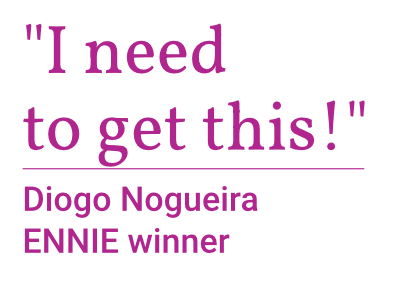 It's produced by an international team of writers and artists, including IKO (Broken Luck, The Lost Bay Podcast) and Evlyn Moreau (Where The Wheat Grows Tall). Guest contributors include Emiel Boven (DURF, The Electrum Archive), Armanda Haller (Paranoid Android, Log Lady), and Bordercholly (Knights of the Road), with editing by Sam Leigh (Anamnesis).
FEATURES:
48pages setting and bestiary zine, illustrated by Evlyn Moreau
2 quick adventure starter cards
Foldable map, with encounter table, art by Bordercholly
1 Almanach including random tables for Events, Encounters, Locations, and Weather
Adventure Pamphlet by Emiel Boven
Solo exploring and drawing game card by Armanda Haller
All art is drawn and chosen to be easily colorable
Full Game Pack printed on premium paper and handcrafted at L.F. OSR
Playlist by Sam Leigh
Stretch goals include: Translations (French, Japanese, Spanish, Portuguese), Troika and Cairn stats cards, original soundtrack by Batts, and coloring pop-up adventure zine!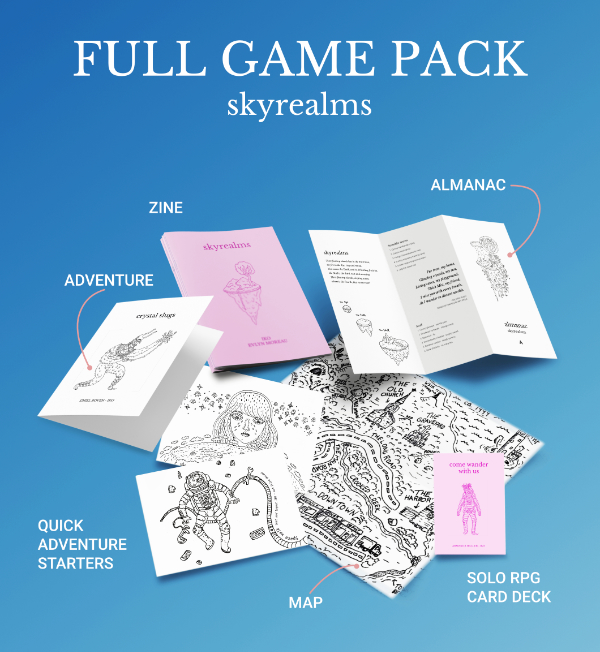 PRESS
Video Interview - THE WEEKLY SCROLL
The crayon is mightier than the sword. - DICEBREAKER
Skyrealms - un jeu de rôle à colorier - COUPCRITIQUE.CA
TTRPGkids features project: SKYREALMS! - TTRPGKids
LINK
Follow the project on Kickstarter https://www.kickstarter.com/projects/thelostbay/skyrealms
Subscribe to the newsletter https://thelostbaystudio.substack.com/p/the-dispatch
Join The Lost Bay Studio community https://discord.com/invite/37XBQVr7eP
Twitter https://twitter.com/thelostbay
Instagram https://www.instagram.com/ikorpg/
SPREAD SAMPLE

Meet the Furlings, deadly furry poet-warriors https://drive.google.com/file/d/13QpODVgoGUkEahaxNkhEYp0qh7rRwTeh/view?usp=sharing

TEAM MEMBERS
Iko - Lead Design

Evlyn Moreau - Lead Artist
Bordercholly - Map & Art
Laura Elle - Dev Editing
Sam Leigh - Editing & Playlist
Emiel Boven - Adventure
Armanda Haller - Solo card game
Cleo Madeleine - Marketing copy
Stretch goals Lucas Rolim - Portuguese version
Montro - Japanese version
Côme Martin - French Version
Armanda Heller - Spanish Version
Batts - Original soundtrack
Iko & Emiel Boven - Pop-up
MEDIA ASSETS
Find media assets and photos here
https://drive.google.com/drive/folders/1pgCYNqTxEpQyIph_PZ7O2wukb0n_Kk5j?usp=sharing
A WORD FROM IKO
The last couple of years have been challenging on so many levels for all of us, and for me too. TTRPG and drawing brought me some solace, and through SKYREALMS I've found a way to put these two hobbies together. SKYREALMS is a game about exploration and wonder, it has a modular structure, and each component of the Full Game Pack adds a layer to the fantastic world you are discovering. Each step makes it more familiar and more alien at the same time. You can customize your SKYREALMS experience to fit your setting or just chill out and see where Evlyn's beautiful art takes you. You can play it like a RPG for adults or read its poetry and lore inserts with your kids.
SKYREALMS is a labor of love from writers, designers, artists and producers across the TTRPG scene. It came about because we wanted to make something a little bit cool, a little bit weird, and a little bit zen - and now it has come together and we can't wait to share it with you and hear your stories.
FOLLOW UP
If you have additional questions, would like to schedule an interview, please feel free to reach out via email to iko.jdr@gmail.com